Travel cheap and relaxed with your WESTspartage-ticket on your selected travel day within the validity according to the subsequent calendar. If the ticket is not used on the chosen day of travel, it can be used for a single trip until 30.09.19 for a surcharge to the WESTstandard price on the train. After that date, it expires without replacement.
Use our offer to visit your family, go on a leisurely day trip or a shopping day. We offer personal on-board support, free Wi-Fi, modern train equipment and other amenities to make your trip an experience!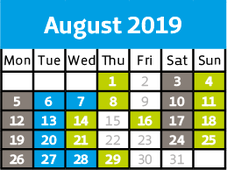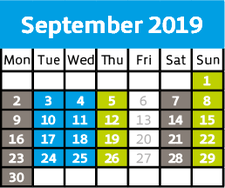 The tickets are valid for a single journey on the colored days.
 - boarding possible all day long
 - boarding before 12 pm
 - boarding after 12 pm
The given times refer to departures according to time-table.
You can easily book your WESTspar ticket online on this page, via WESTpay in our WESTshops or for a surcharge of € 1,- you can buy it in one of 3.000 tobacco stores all over Austria. Please note that the ticket is not available on board. Each ticket allows you to be accompanied by four family children under 15 years for 1 Euro only per child and direction. These € 1,- tickets are available directly on board.  
Our particularly favorable WESTspar tickets are available for the following routes:
Linz - Salzburg
Wels - Salzburg
Amstetten - Attnang
Amstetten -
Vöcklabruck
(and conversely) 
St. Pölten - Attnang
St. Pölten -
Vöcklabruck
Amstetten - Salzburg
(and conversely)
Wien - Linz
Wien - Wels
(and conversely)
St. Pölten - Salzburg
Wien - Attnang
Wien - Vöcklabruck
(and conversely)
Wien - Salzburg
(and conversely)