Accessibility and Passenger Assist at WESTbahn
Our modern fleet of low-floor WESTbahn trains with step-free, level-access entry and extra-wide doors, allows you to travel independently and comfortably between Vienna, St. Pölten, Amstetten, Linz, Wels, Attnang-Puchheim, Vöcklabruck, Salzburg, Kufstein, Wörgl and Innsbruck – a free wheelchair space reservation is of course included.
Accessible train travel – here how it works:
Find all information on travelling in a wheelchair with the WESTbahn on this page.
---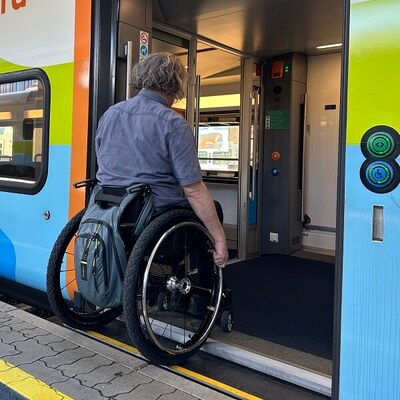 Wheelchair access on the WESTbahn
Our low-floor design of the entire WESTbahn fleet offers you step-free access – an automatic retractable boarding ramp closes the gap between the platform and the train when the doors are opened.
All stations we stop at in Austria allow step-free, level-access, independent boarding and alighting of the WESTbahn trains without prior notification. Vienna Hütteldorf is an exception - please board at Vienna Westbahnhof if possible. Our crew is always available if assistance is desired.
Journeys to and from Germany (stations: Rosenheim, Munich East and Munich Central Station): due to the different platform heights, step-free boarding is not possible. Our mobility compartment (see below) is equipped with a foldable ramp at the entrance next to the wheelchair-accessable toilet to bridge the height difference. A crew member will operate the ramp.
---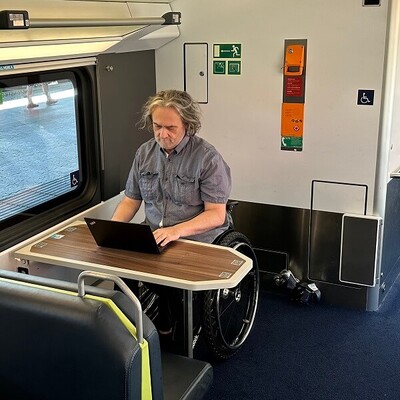 Our Mobility Compartment
Every WESTbahn train has its own dedicated mobility compartment in coach 14 (always in the middle of a WESTbahn train).
Our mobility compartment is certified for persons with reduced mobility and has a wider aisle, two reservable wheelchair spaces, generous open spaces, wheelchair-accessable toilet and a foldable ramp for non-level-access boarding and alighting at German stations.
You can book a separate wheelchair space reservation free of charge with every WESTbahn ticket. You will be automatically checked into the mobility compartment.

One accompanying person may travel free of charge if this is noted in the Disability Identity Card. Please contact our service team for a free reservation.
---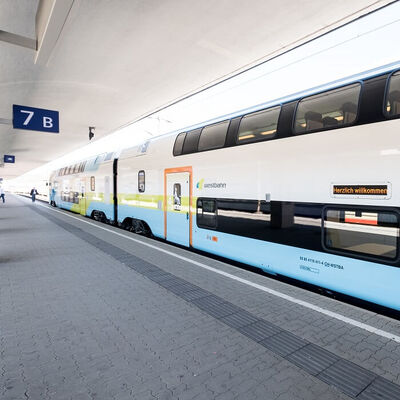 Assistance service at the station
If you need assistance at your departure and/or destination station, we will be happy to organise a free assistant service – please contact us 48 hours before departure with special requirements.
Please note that the Amstetten train station unfortunately does not have an assistance service.
Our information video visualises our WESTbahn mobility compartment:
Book your WESTbahn ticket here
If you still have questions, you can reach us by e-mail at meinenachricht@westbahn.at or by telephone from Mon - Fri from 8:00 to 18:00 and Sat, Sun or public holidays from 9:00 to 15:00 under +43 1 899 00.