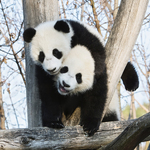 The oldest existing zoo in the world, together with the castle and the park, is a UNESCO World Heritage Site. A visit is worthwhile not only for the animals, but also for the historic architecture.
If you are travelling to Vienna with a WESTstandardpreis ticket, ask the crew about the voucher for Schönbrunn Zoo. No combination with special offer tickets, Verbund tickets or other third-party tickets. Valid for 3 days from issue, from 19 years of age.
Travellers over 18 years of age receive a € 4,- discount, young people up to 18 years receive a € 2,- discount.
Children who pay € 1,- when accompanied by a full-paying adult can use the € 2,- discount voucher.
The voucher is valid for 3 days from the date of issue.
For more information please visit our cooperation partner page: zoovienna.at