Get ready for the famous Oktoberfest in Munich - fares starting from € 23.99
Welcome to Munich, the radiant capital of Bavaria! This city combines historical grandeur with modern flair and is famous for its cultural diversity and warm hospitality.
Destination Munich – Our Tips:
On this page, we have compiled some tips and information for your upcoming journey to Munich with WESTbahn.
Book your WESTbahn ticket to Munich here
---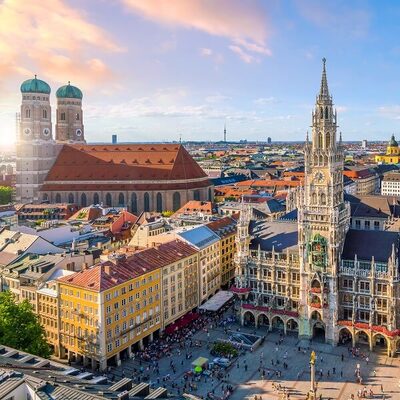 The Isar metropolis Munich!
The Bavarian state capital uniquely blends tradition and modernity.
In Munich, you can experience Marienplatz, the vibrant heart of the city, home to the old town hall and the Glockenspiel. The majestic Nymphenburg Palace impresses with its baroque splendor, while the modern BMW Museum vividly portrays automotive history. Culture enthusiasts should explore the Pinakotheks, housing masterpieces from Dürer to Picasso, while the English Garden, with its green spaces and famous beer garden, offers a place of relaxation. And, of course, not to be forgotten is the annual Oktoberfest, reflecting Munich's lively celebration culture.
From Munich's Central Station, you can stroll directly into the city center via the picturesque Karlsplatz and the shopping street Neuhauser Straße.
---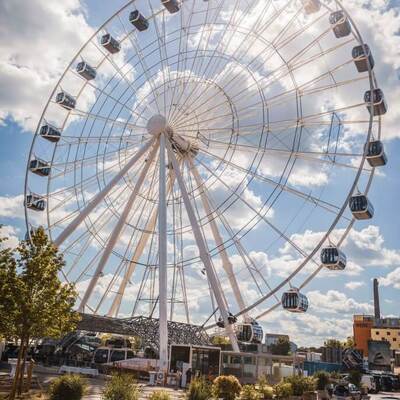 Deals with WESTbahn
Your WESTbahn ticket can get you reduced admission to several city highlights.
For example, you save € 5 off the admission at Munich's Giant Ferris Wheel "Umadum". The Ferris wheel is Munich's highest attraction and offers breathtaking panoramic views of the city.
Furthermore, you'll receive a 15 % discount when booking online at one of the four Flemings Hotels. Each hotel has its own character and provides a unique perspective of its city.
All information about discounts with your WESTbahn ticket, you can find on our deals page.
---
WESTbahn trains to Munich
WESTbahn connects Austria's capital Vienna, with the Bavarian capital 5 times per day. The journey duration is 4 hours and 16 minutes.
From Vienna Westbahnhof, the first WESTbahn train departs at 06:08 AM and arrives in Munich at 10:13. The last train from Munich starts at 17:49 and arrives in Vienna at 21:52.
Enjoy our three onboard classes: First Class, Comfort Class, and Standard Class. Fares start at € 23.99.
 Book your tickets to Munich now and look forward to a relaxing journey with WESTbahn!
Departure 

Vienna

Departure 

Linz

Departure 

Salzburg
Arrival Munich
06:08
07:26
08:39
10:13
10:08
11:26
12:39
14:13
12:08
13:26
14:39
16:13
16:08
17:26
18:39
20:11
18:08
19:26
20:39
22:13
Book Now
Book Now
Book Now
If you still have questions, you can reach us by e-mail at meinenachricht@westbahn.at or by telephone from Mon - Fri from 8:00 to 18:00 and Sat, Sun or public holidays from 9:00 to 15:00 on +43 1 899 00.