In Mozart's footsteps - off to Salzburg from € 13.99
Welcome to Salzburg – immerse yourself in the wonderfull alpine birthplace of Wolfgang Amadeus Mozart and the original film location of the 1965 filmclassic "Sound of Music". Our WESTbahn trains will take you from Vienna, Munich or Innsbruck fast and comfortable to Salzburg!
Destination Salzburg – our tips:
We have compiled some tips and insights for your next journey to Salzburg with WESTbahn.
Book your WESTbahn ticket to Salzburg here
---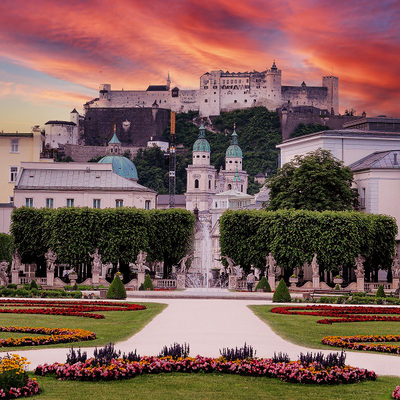 Salzburg – the city of Mozart
In Salzburg's old town, romantic alleys and wide squares line up with the wonderful alpine panorama as a backdrop.
From Salzburg's main train station, you can walk along Rainerstraße, past Mirabell Palace (the famous Do-Re-Mi scene from the Sound of Music was filmed here) and the home of Wolfgang Amadeus Mozart into town. Mozart's birthplace is located on the opposite bank of the Salzach River.
A spectacular highlight of the city is the Hohensalzburg Fortress, with its breathtaking view it also offers a glimpse into the medieval past of the city. Salzburg is a city that combines history, art and landscape in perfect harmony.
---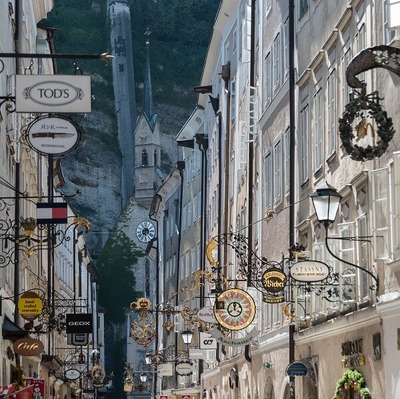 Deals with WESTbahn
Did you know your WESTbahn ticket entitles you to discounted admission to several attractions in town?
For example, you can enjoy a discount at Mozart's birthplace and home. Here you can marvel at the original fortepiano from Mozart's possession as well as the original "Klotz" violin.
Furthermore, you will receive a 20% discount on your admission ticket to the Salzburg Museum. The museum is the oldest and most extensive collection institution on the history of art and culture in Salzburg.
All information about discounts with a WESTbahn ticket can be found on our Deals page.
---
WESTbahn trains to Salzburg 
Since December 2011, the WESTbahn connects Austria's capital Vienna with Salzburg and runs 27 times a day in 30 minute intervals directly to or from Salzburg to Vienna.
The first WESTbahn train departs at 05:38 from Vienna Westbahnhof and takes you to Salzburg within 2 hours 30 minutes. For a pleasant journey we provide you with three classes (First Class, Comfort Class and Standard Class), which you can choose according to your needs. Starting from only € 13.99 travel fast and comfortable our Vienna – Salzburg route with our WESTsuperpreis fare.
Book your tickets now and look forward to a relaxing journey with the WESTbahn!
Travel time – trains to Salzburg
Departure Vienna (2 h 30 min)

Departure 

Linz (1 h 12 min)

Departure 

Innsbruck (1 h 55 min)

Departure 

Munich (1 h 32 min)
05:38
06:56
05:26
07:49
06:08
07:26
06:31
09:48
XX:38
XX:56
12:31
11:48
XX:08
XX:26
14:31
15:48
XX:38
XX:56
16:31
17:49
20:08
20:26
20:38
20:56
 
 

Book Now

Book Now

Book Now

Book Now
If you have questions, contact us by e-mail at meinenachricht@westbahn.at or phone from Mon - Fri from 8:00 to 18:00 and Sat, Sun or public holidays from 9:00 to 15:00 on +43 1 899 00.