Off to the Alps – Innsbruck from € 18.99
Innsbruck, the enchanting capital of Tyrol, captivates visitors with its breathtaking backdrop of Alpine peaks and historical architecture. WESTbahn connects Innsbruck 5 times a day with Vienna, Salzburg and Linz.
Destination Innsbruck – Our Tips:
Here we have compiled tips and tricks for your upcoming journey to Innsbruck with WESTbahn.
Book your WESTbahn ticket to Innsbruck here
---
Innsbruck - The Alpine City
Innsbruck, the charming capital of Tyrol, blends history with modern life amidst the Alps.
The city is renowned for its magnificent architecture, which is why we recommend a city stroll in the heart of Innsbruck's downtown. The starting point is the WESTbahn arrival point: Innsbruck Central Station, from where you head over to the impressive Triumphpforte, directly leading to Marie-Theresienstraße and further on to the Old Town with its narrow alleyways. During the walk, you'll be accompanied by the fresh Alpine air and will enjoy the beautiful city center, including the "Goldene Dachl". The walk concludes on the banks of the Inn River, where you can admire the impressive mountain panorama and savor the impressions of this excursion.
---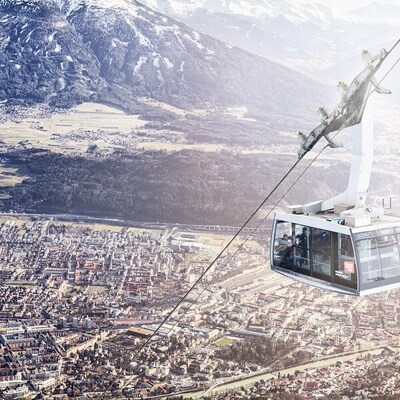 Deals with WESTbahn
Did you know with your WESTbahn ticket, you can get discounted admission to a bunch of attractions?
For instance, all mountain enthusiasts can enjoy a a 10 % discount on the Innsbruck Nordkette Cable Car. From the historic Old Town, you can ride directly into the Karwendel Nature Park at an elevation of over 2.000 meters.
Furthermore, you'll receive a 10% discount on the popular Innsbruck Card, which grants you free entry to 22 museums and attractions, as well as a round-trip ride on selected mountain railways..
Check out all our partner deals on our deals page.
---
WESTbahn trains to Innsbruck
WESTbahn operates 5 direct InterCity trains between Innsbruck and Vienna per day. The journey duration is 4 hours and 31 minutes.
The first WESTbahn train departs from Vienna Westbahnhof at 07:08 AM and arrives in Innsbruck at 11:29. The last train from Innsbruck starts at 16:31 and arrives in Vienna at 20:52.
Our WESTbahn trains offer three classes: First Class, Comfort Class, and Standard Class. Fares from Vienna to Innsbruck start from € 18.99.
Book your tickets to Innsbruck now and look forward to a relaxing journey with WESTbahn!
Departure Wien
Departure Linz

Departure 

Salzburg
Arrival Innsbruck
07:08
08:26
09:39
11:29
08:08
09:26
10:39
12:29
11:08
12:26
13:39
15:29
15:08
16:26
17:39
19:29
17:08
18:26
19:39
21:29
Book Now 
Book Now
Book Now
If you still have questions, you can reach us by e-mail at meinenachricht@westbahn.at or by telephone from Mon - Fri from 8:00 to 18:00 and Sat, Sun or public holidays from 9:00 to 15:00 on +43 1 899 00.